The humble pencil sharpener is an age-old accessory that no artist should be without. Some artists prefer the hands on approach of a manual sharpener that puts you firmly in control. Other artists, especially prolific pencil users, may prefer to save time and use an electric sharpening machine. There's so much choice available, and so many different types of pencils, that it can be mind boggling trying to find the best sharpener for your materials. Here we compare our sharpeners side by side to help you select the perfect one.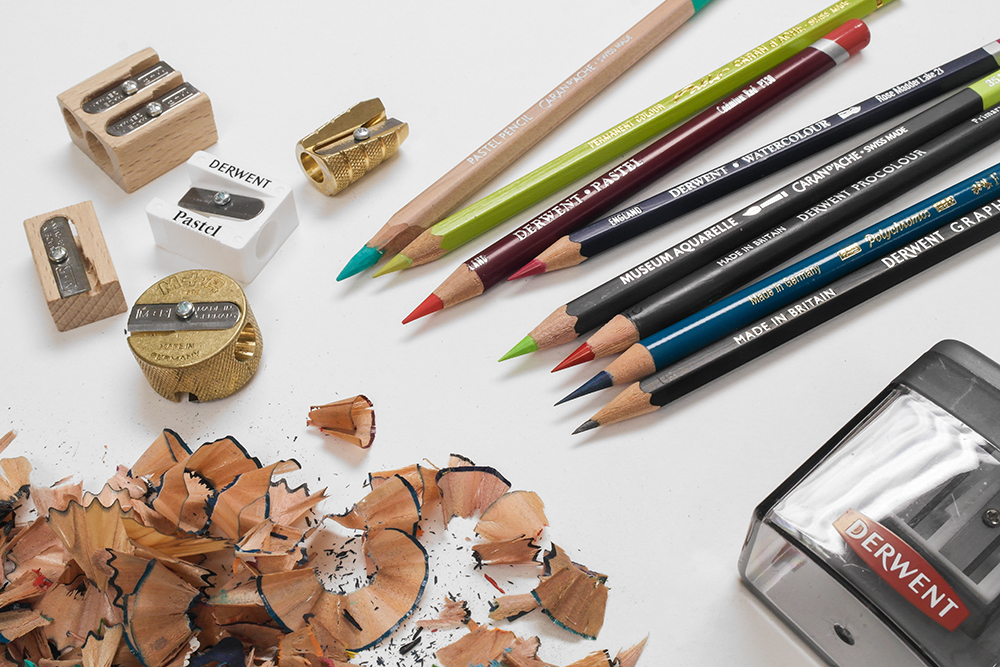 An effective pencil sharpener is a worthy investment that any artist should make. After all, pencils can be expensive and you don't want a poor sharpener to chew up the wood and damage the leads. At their most basic, they're one of the most simple tools you'll have lying around in your studio. You might even give little thought to the vast amount of sharpeners available. While your standard two hole manual sharpener can do a fantastic job, there's a whole world of other sharpeners to try. Choosing the right one can completely transform the way you use your materials. Read below to find out more or use the links below to navigate to a particular topic.
Tips for Sharpening Pencils
On the face of it sharpening a pencil couldn't be easier. Just insert the pencil into the hole and rotate the pencil in your hand. Making sure the pencil and sharpener are inline – not at an angle – will ensure the cleanest possible sharpening. It's also important not to apply too much pressure or your pencil lead may break. If you're finding sharpening your pencils frustrating try some of these tips.
Make Sure Your Sharpener isn't Blunt
A blunt blade can damage your pencil and leave a less than satisfactory point on the lead. But how can you tell if a sharpener is blunt? Two good indicators are the wood around the point of your pencil and the shape and size of your sharpenings.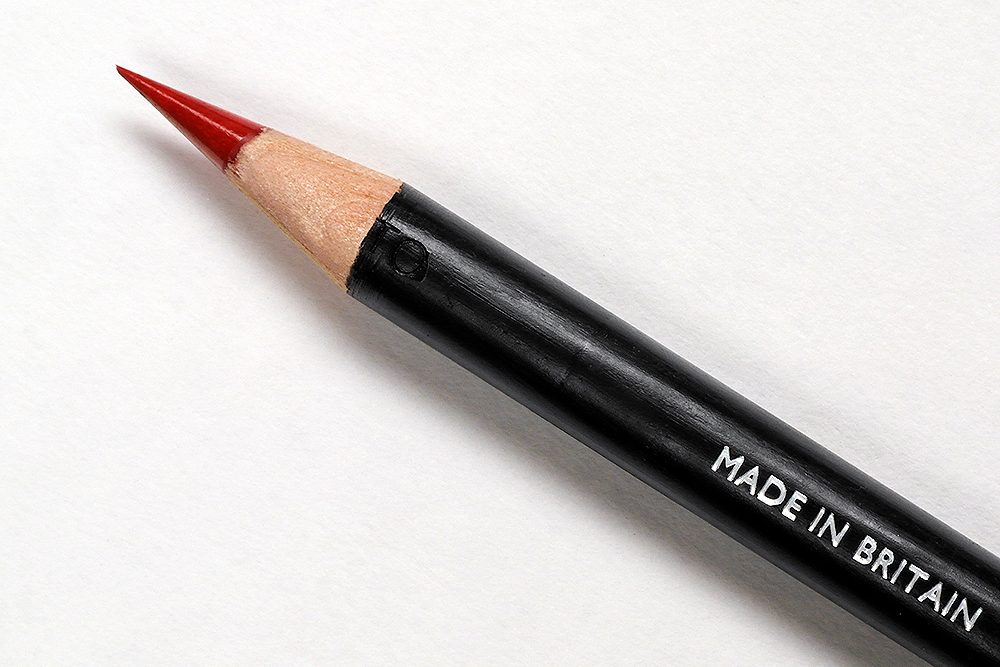 The wood around the point of your pencil should be smooth. If it is smooth then the blade in your sharpener is sharp enough. If the wood looks a little rough or furry then that's a sign that the blade on your sharpener is dull.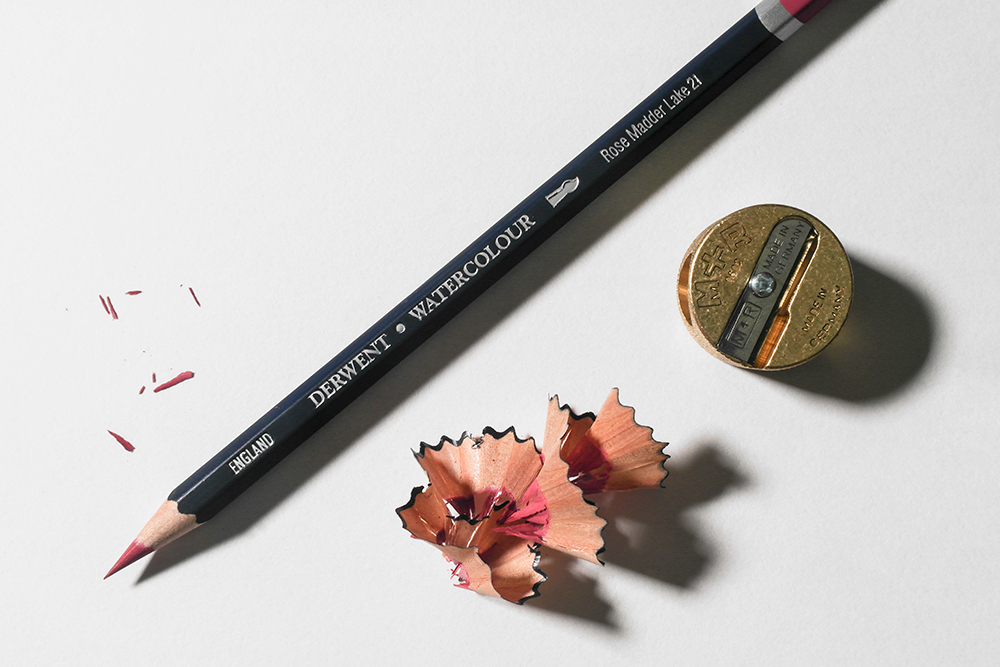 Pencil Shavings should be long and continuous from a sharpener with a good blade. If you find that your sharpenings are breaking off into small, jagged shards then your blade will probably need replacing.
If there are signs the blade isn't sharp enough then it means it's probably time to replace your sharpener or just replace the blade if there are replacements available for your model.
You're Using the Wrong Type of Sharpener
Some types of pencil require different types of pencil sharpeners. If you're using larger or smaller than standard pencils you might need to get a sharpener with a different size hole. Some soft lead pencils may also require a blade that is a more gentle to avoid chips and broken leads.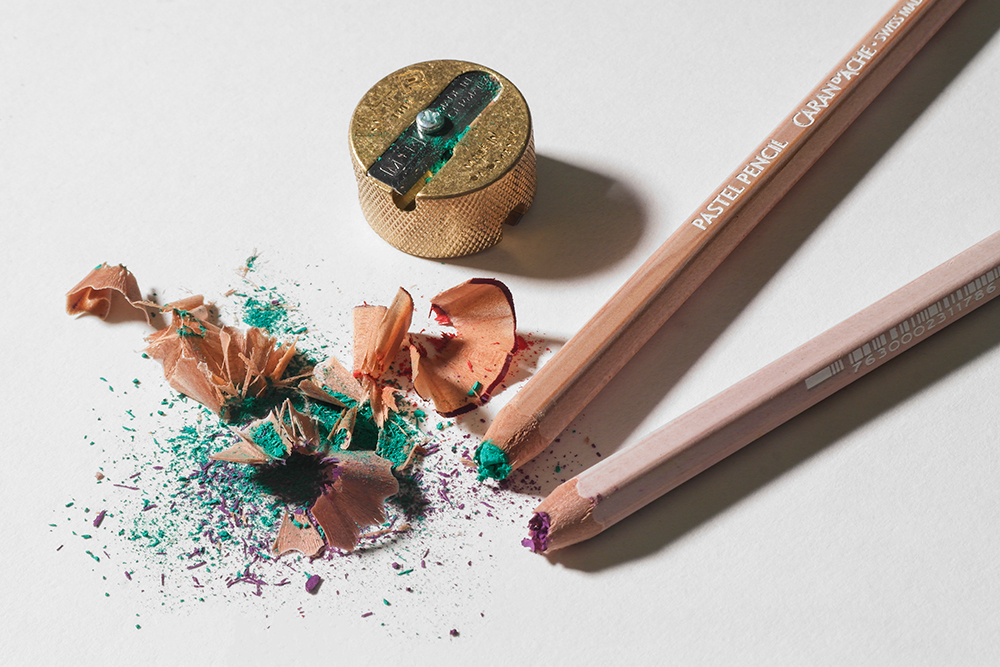 So how do you choose the right type of sharpener? There's a few things you'll have to consider. Take note of the diameter of your pencils and how soft the lead is. Do you need a sharpener you can take on your travels or are you looking for something more heavy duty to use in the studio? What kind of usage will the sharpener get? Are you just sharpening the occasional pencil or are you an avid pencil user that goes through them at an alarming rate?
Read below to see a comparison of all our sharpeners and it should help you find the perfect sharpener for you.
What are the different types of pencil sharpener?
Our range of sharpeners can be split broadly into four categories: simple manual sharpeners, reservoir sharpeners, crank sharpeners, electric sharpeners and other sharpening accessories. Aside from our sharpening accessories, these groups of sharpeners will work using either a single blade or helical sharpening mechanism.
Single Blade Sharpeners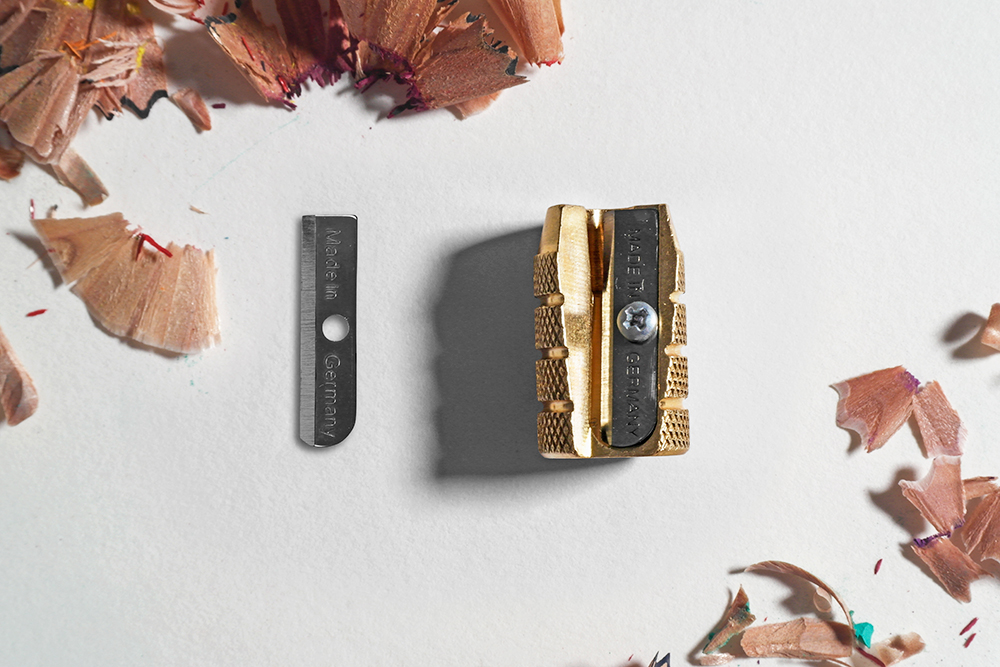 Single Blade Sharpeners have a single flat metal blade with a sharp edge. In this type of sharpener your pencil moves around the blade in order to sharpen. Single blade sharpeners have a hole that holds your pencil inline with the blade, so that when you gently turn the pencil both the lead and wood are sharpened.
Helical Sharpeners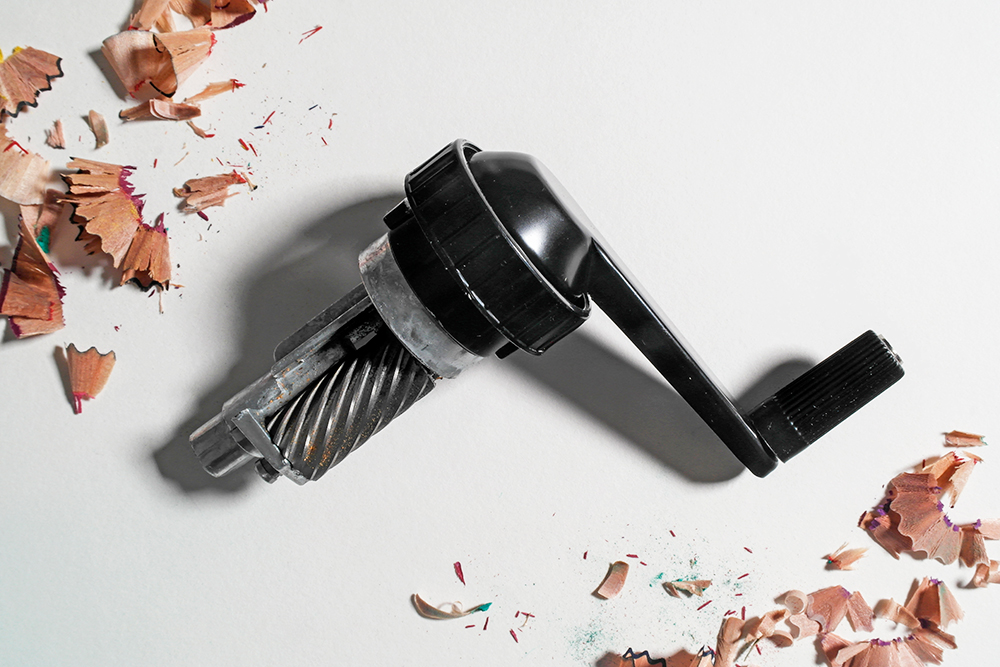 Helical Sharpeners don't really have a 'blade' as such. Instead they have a cylindrical barrel cut with a spiral pattern. This barrel moves around your pencil when you turn the crank, griding against pencil to remove the wood casing and sharpen the tip to a fine point. They're a lot more heavy duty than a single blade sharpener, and much better for sharpening high volumes of pencils.
Simple Manual Pencil Sharpeners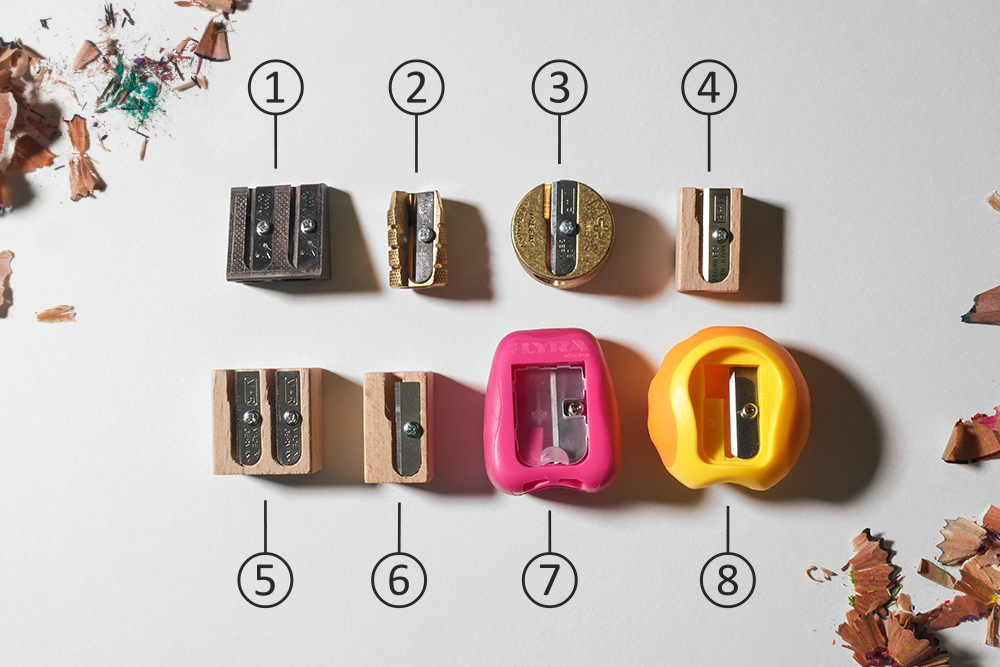 Pencil Sharpener
M&R Professional Solid Brass Bullet Pencil Sharpener
M&R Professional Solid Brass 2 Hole Pencil Sharpener
M&R Natural Beechwood Single Hole Pencil Sharpener
M&R Natural Beechwood Double Hole Pencil Sharpener
M&R Natural Beechwood Giant Pencil Sharpener
Lyra Groove TripleOne Pencil Sharpener
Lyra Groove Pencil 1 Hole Sharpener
A handheld, manual sharpener is the simplest of all artists' sharpening tools. These basic sharpeners are usually made from metal, plastic or wood and are likely to be the types of sharpeners you might have first enountered at school. This type of sharpener is commonly available with either a single or double hole. Single hole sharpeners have one aperture – usually this will fit a standard pencil. However, there are single hole sharpeners that have a larger hole suitable for jumbo pencils (like the M+R Giant Pencil Sharpener) or for uniquely shaped pencils (like the Lyra Groove Sharpeners). Double hole sharpeners usually have one aperture for standard pencils and another for larger than standard pencils.
Reservoir Pencil Sharpeners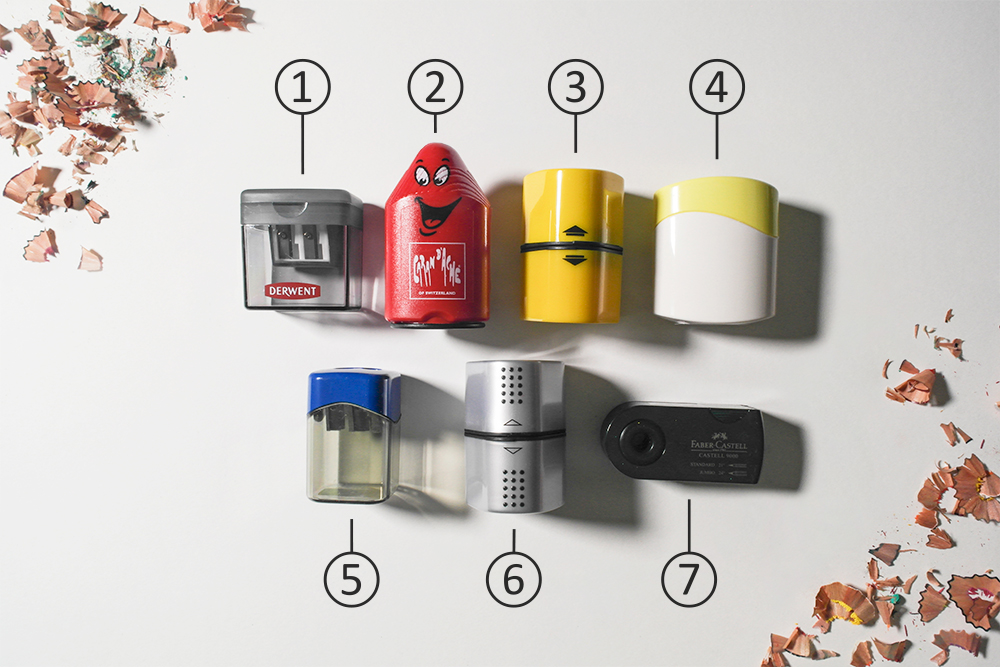 Derwent Twin Hole Sharpener
Caran d'Ache 2 Hole Red Smiley Face Pencil Sharpener
Jakar Trio Pencil Sharpener
M&R Green Line Elliptic Double Hole Pencil Sharpener
M&R Quattro Swing Double Hole Pencil Sharpener
Faber-Castell Grip 2001 Trio Pencil Sharpener
Faber-Castell Castell 9000 Twin Sharpener Box
Reservoir Pencil Sharpeners, sometimes refered to as Canister Sharpeners, work like a simple manual sharpener, but they include an inbuilt drum to catch your pencil shavings. They're popular with artists taking classes or drawing on the go as the reservoir means you don't need to carry an extra container to hold your waste. All our reservoir sharpeners have at least two holes, but we also stock some that have three. The Faber-Castell Grip 2001 and Jakar Trio sharpeners each have a hole for standard pencils, one for jumbo pencils and a third hole for colouring pencils – which are usually slightly thicker in diameter than a standard pencil but not quite jumbo sized. All our other reservoir sharpeners have two holes – one for standard pencils and a second hole for larger than standard pencils.
Crank Pencil Sharpeners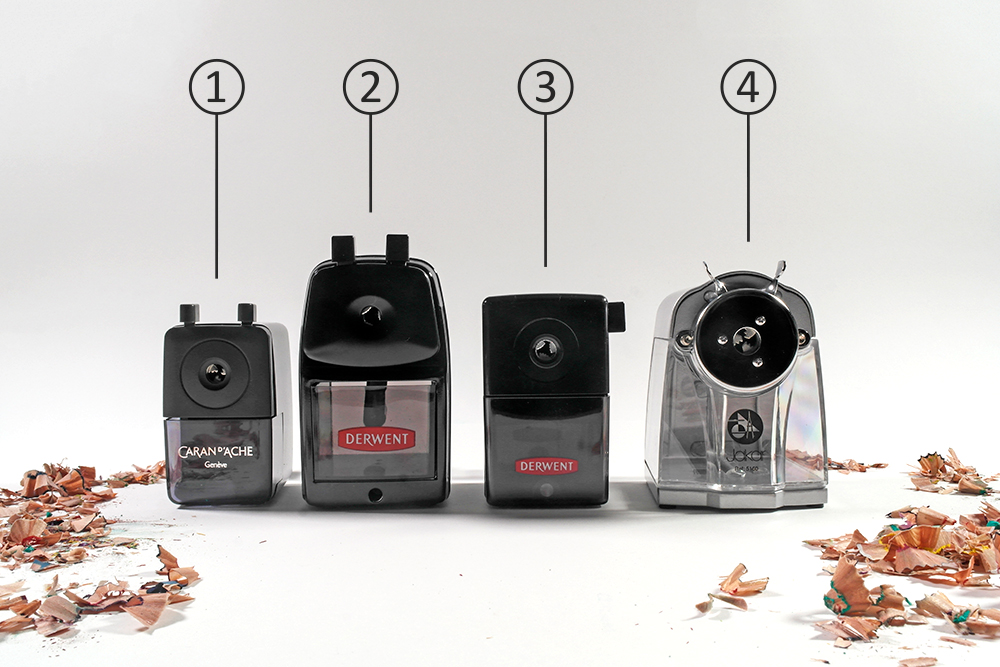 Caran d'Ache Pencil Sharpening Machine, Black
Derwent SuperPoint Mini Manual Pencil Sharpener
Derwent SuperPoint Manual Pencil Sharpener
Jakar Desk Top Sharpener with Clamp
Manual crank sharpeners, also sometimes referred to as helical sharpeners, have a completely different sharpening mechanism to pencil sharpeners with a single blade. These pencil sharpeners tend to be large and often bulky, so not very portable or suitable for outdoor work. You're best keeping them in the studio, or in a room where you prefer to create your artwork. You can also mount most of our models onto a desk, giving them a bit more stability during sharpening.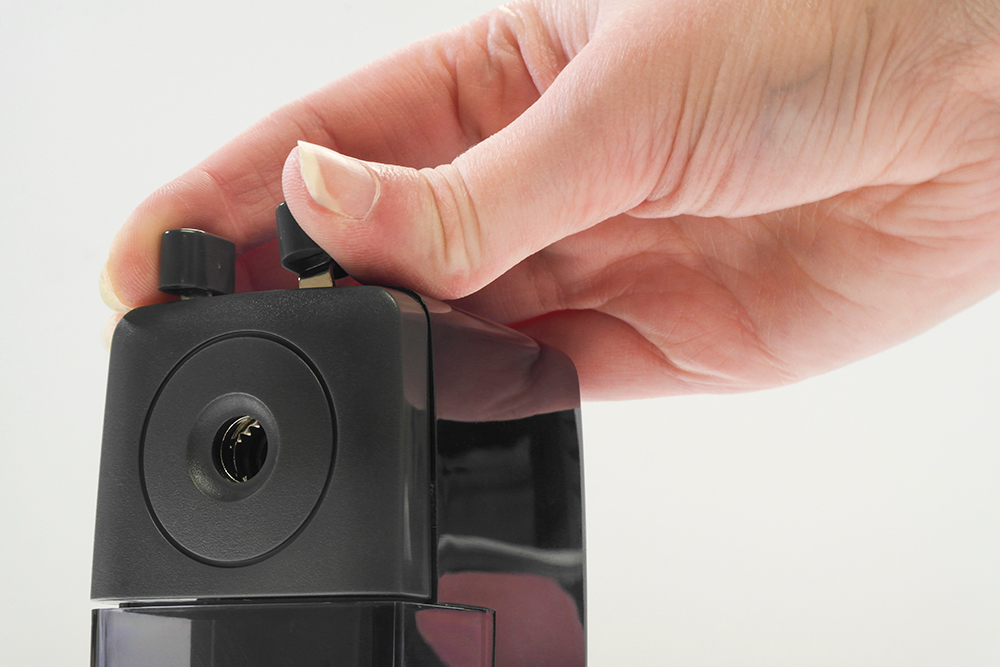 Like with most other sharpeners, you'll begin sharpening your pencil by placing it in the aperture at the front. With a crank sharpener the pencil is held in the hole using a clip mechanism that releases from the front of the machine. You can usually activate this via a pincer grip that protrudes slightly from the top of the sharpener. As you turn the crank the pencil will feed into the sharpener. In some models the feeding mechanism will stop automatically once the pencil is sharp.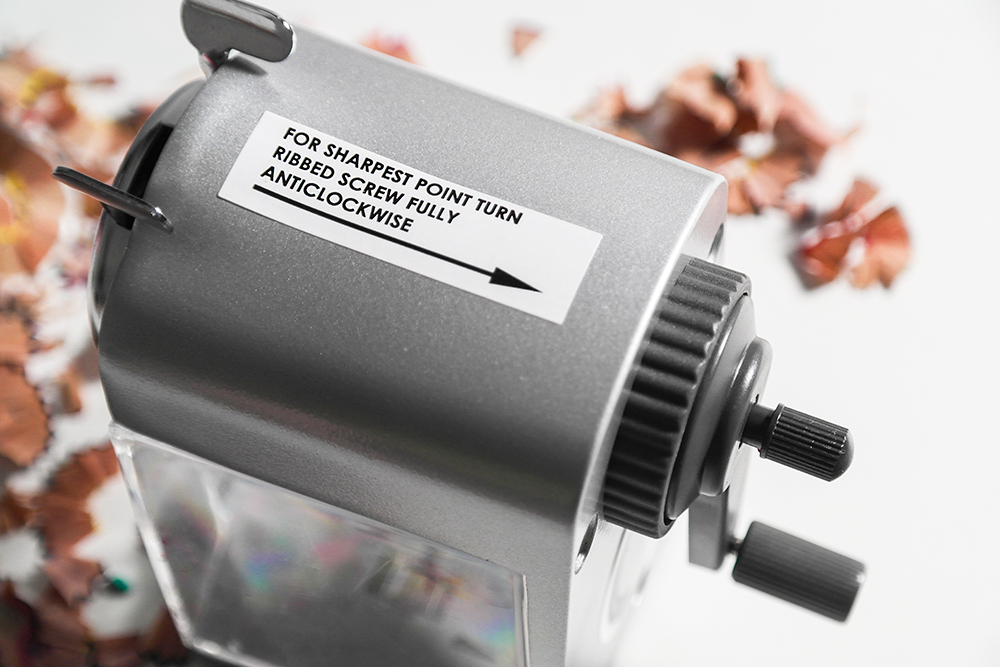 Some crank sharpeners also include a tool to adjust the length of the point on your pencil – so you can choose anything from a super sharp, long point to a short, more blunt point. This mechanism is usually controlled through an adjustable screw at the base of the handle.
It's easier to sharpen a high volume of pencils with a crank sharpener, however there is still some manual work involved to turn the crank.
Electric Pencil Sharpeners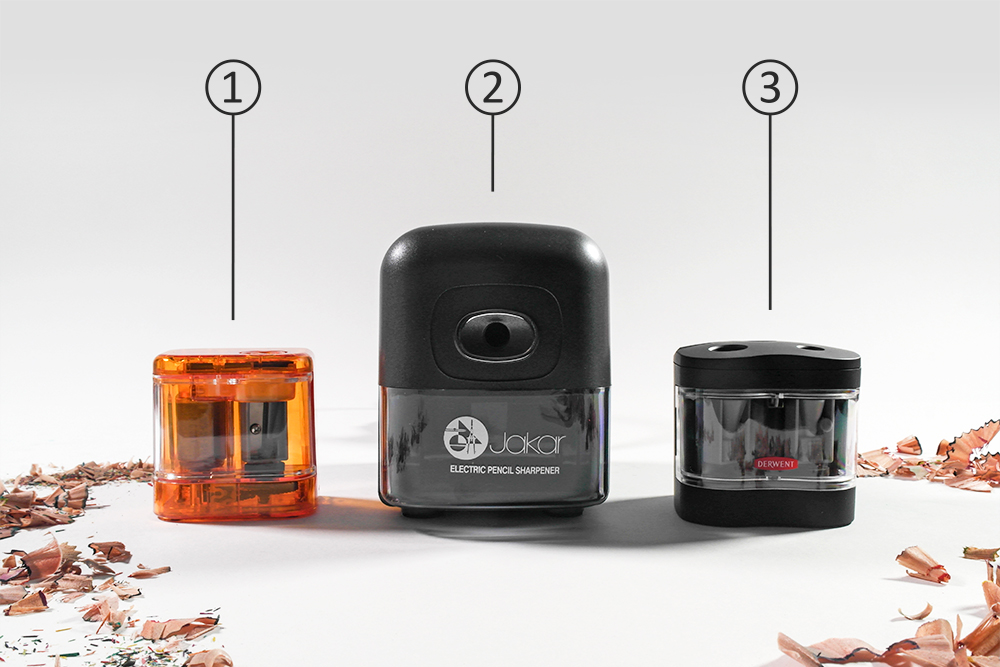 Electric Sharpeners can use either a blade or helical sharpening mechanism, but the whole process is powered by electricity. These sharpeners require very little in the way of manual work – all you need to do is insert your pencil and let the machine do the rest. These heavy duty sharpeners are perfect for artists who use pencils daily, or for those who just don't want to waste time manually sharpening their pencils. It's pretty easy to sharpen a high volume of pencils with these sharpeners.
Electric sharpeners can be either mains or battery powered. Any sharpener using mains power, like our Electric Pencil Sharpener, you can really only use in the studio. They're quite bulky, and you'll always need a power outlet nearby. Both our battery powered models (Derwent and Jakar) are much more lightweight. However, they are still more bulky than a standard sharpener and aren't exactly what most artists would consider to be 'portable'. There's nothing stopping you popping one in a bag and taking it on your travels though – although some extra batteries might be worth taking too.
Miscellaneous and Specialist Sharpening Tools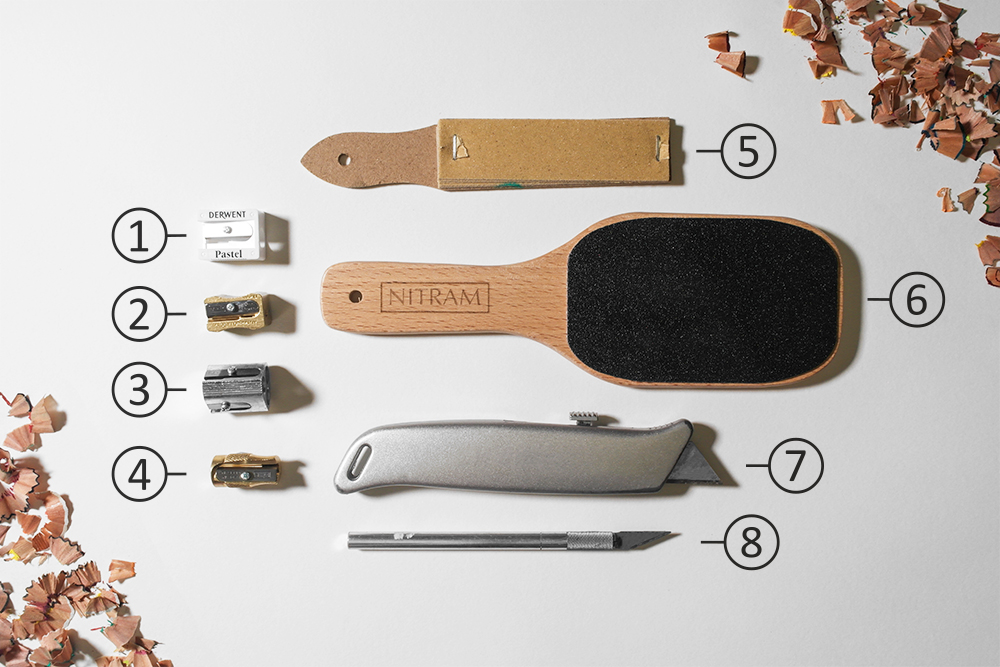 Derwent Pastel Pencil Sharpener
M&R Clutch Pencil Lead Pointer
M&R Triple Function Three Hole Pencil Sharpener
M&R Pollux Long Point Brass Pencil Sharpener
Sandpaper Block
Nitram Sharpening Bloc
Heavy Duty Utility Knife
Aluminium Craft Knife
Our other sharpening tools include sharpeners and accessories suitable for non-standard pencils or specialist sharpening techniques.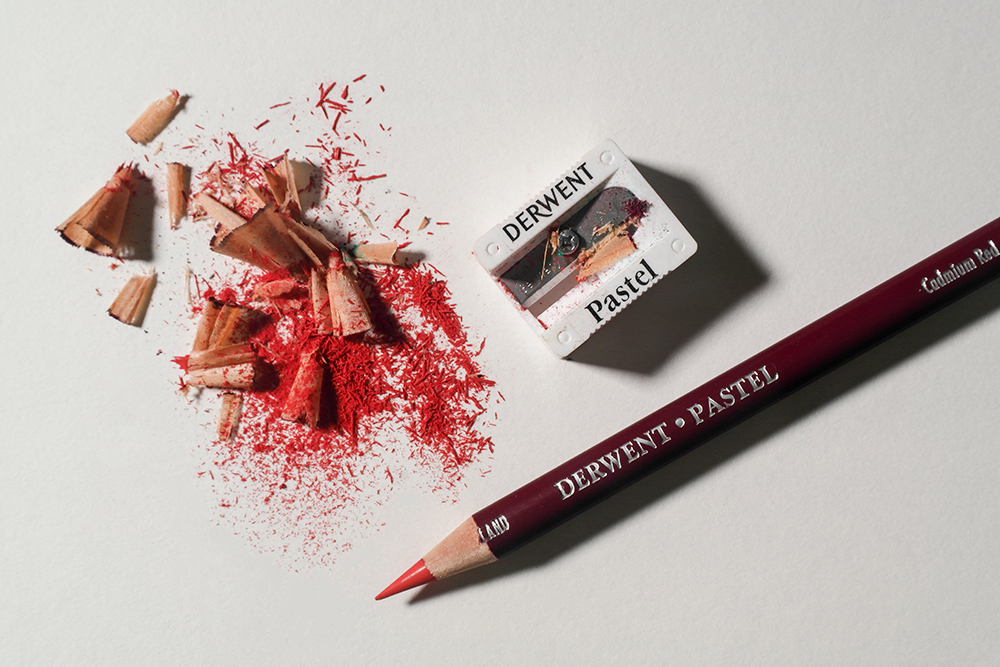 The Derwent Pastel Pencil Sharpener is perfect for artists working with pastel, charcoal or other soft pencils. If you work with these materials you'll probably find that most standard sharpeners are too harsh and will break their soft lead.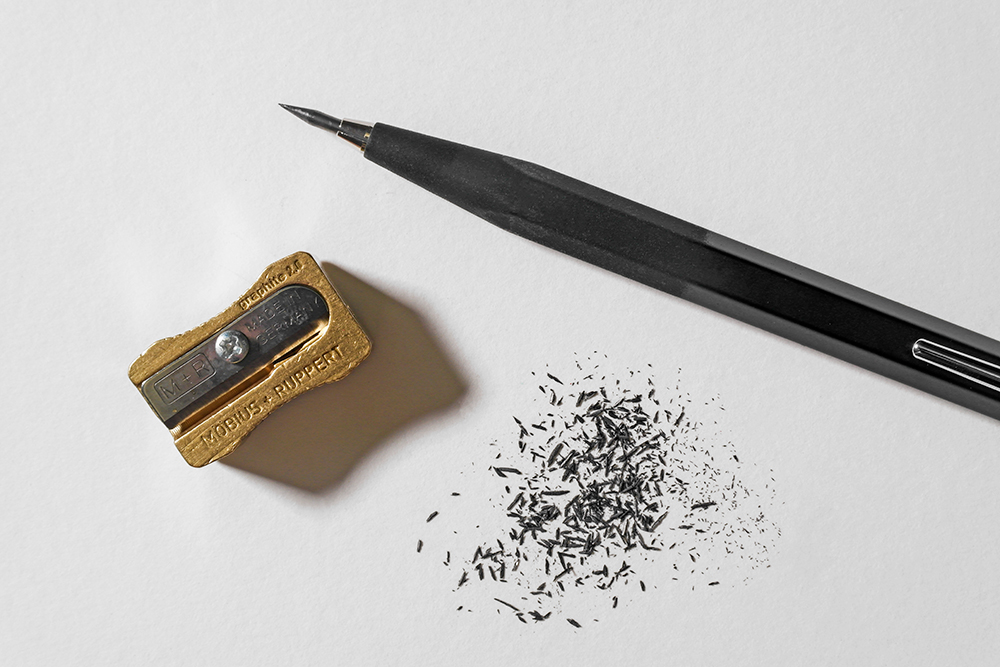 The M&R Clutch Pencil Lead Pointer is specifically made for sharpening clutch pencil leads. Clutch Pencils work similarly to a mechanical pencil, but have a thick lead more like that of a standard pencil. Some brands of clutch pencils include an inbuilt sharpener – this lead pointer is great for those that don't. It has two holes, one for 2mm leads and another for 3.2mm leads. It works the same way as a standard sharpener.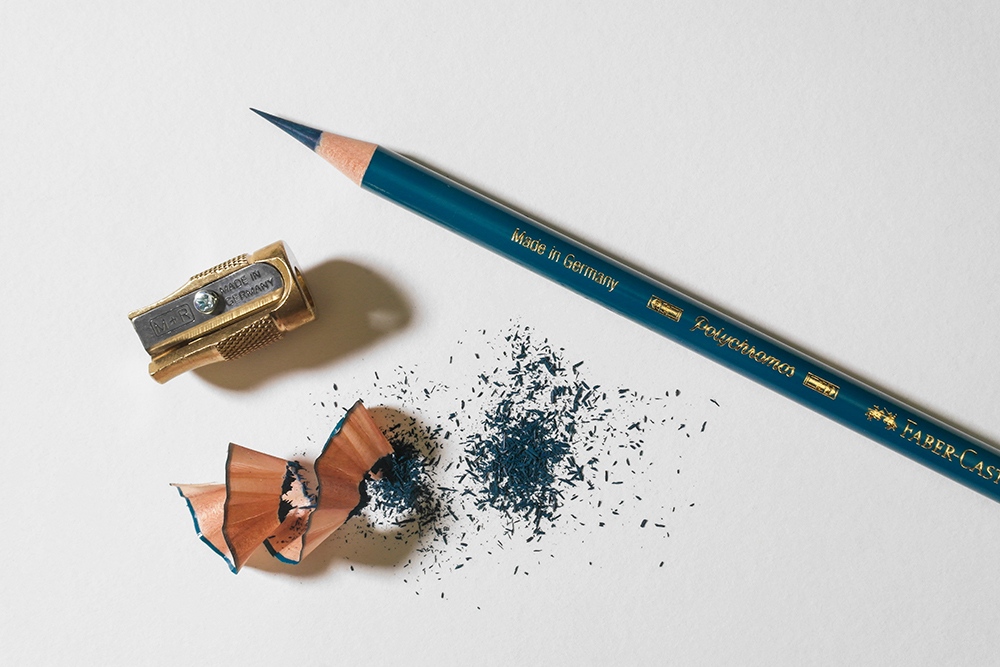 M&R's Pollux Long Point Brass Pencil Sharpener has a unique concave design that sharpens pencils to an extra long, super fine point.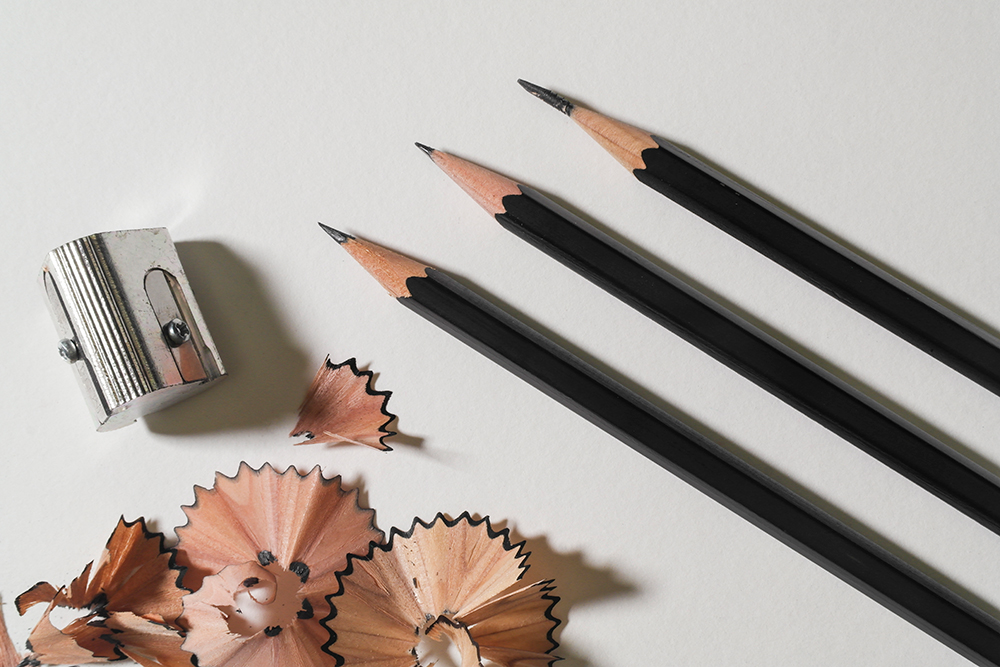 The M&R Triple Function Three Hole Pencil Sharpener has three separate holes for sharpening standard pencils. Each hole has a different length of blade for different sharpening methods. One hole works like a standard sharpener, while the second removes just the wood and the third sharpens just the lead. It allows you full control over the point on your pencils.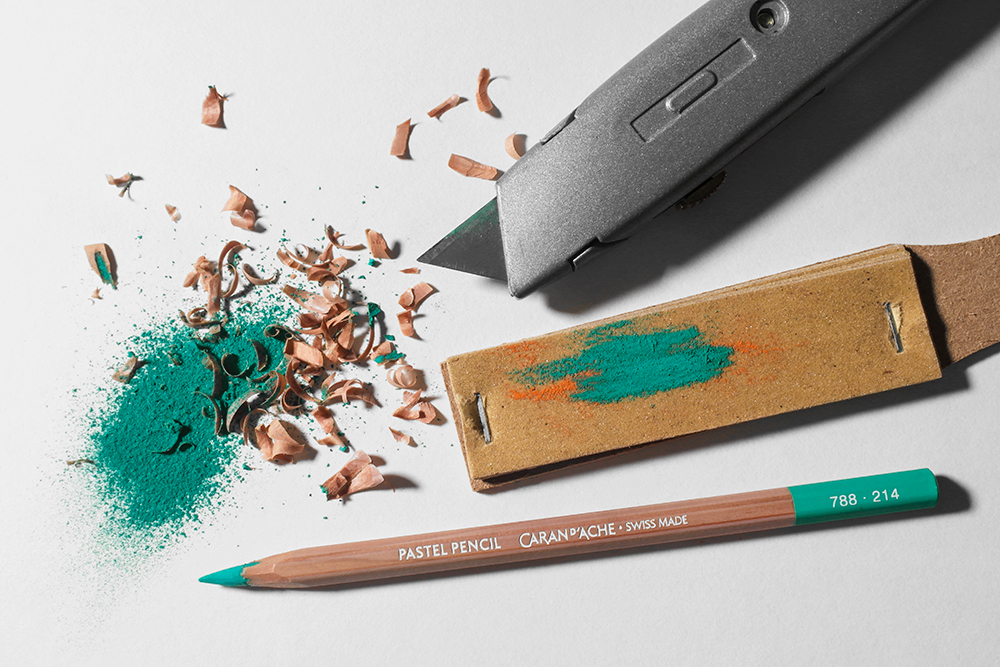 You can use our Aluminium Craft Knife or Heavy Duty Utility Knife to sharpen pencils too. It's a little more tricky to sharpen with a knife than with a standard sharpener. Essentially you'll need to brace the pencil in your non-dominant hand and gently run the sharp edge of the blade away from you down the lead of the pencil. Once you have exposed enough lead you can refine its shape using a sandpaper block. This sharpening technique is particularly popular for sharpening soft leads like pastel and charcoal pencils.
The Nitram Sharpening Bloc works like a sandpaper block, but has been made specifically for working with Nitram Fine Art Charcoal.
Cleaning and Maintaining Your Pencil Sharpener
Pencil Sharpeners are just like your kitchen knives – for them to work effectively you need to maintain their blades properly. It's so easy to just toss your sharpener back in a drawer or pencil case, many artists forget that their blades can get gunked up and dull. In fact, many overestimate exactly how long a blade will stay sharp for. Their life will also depend on the type of sharpening you are doing. Coloured pencils contain waxes and oils that will gunk up blades much quicker than graphite, pastel and charcoal. So if you're a colour pencil user you might need to clean or replace your blade more often.
Single Blade Sharpeners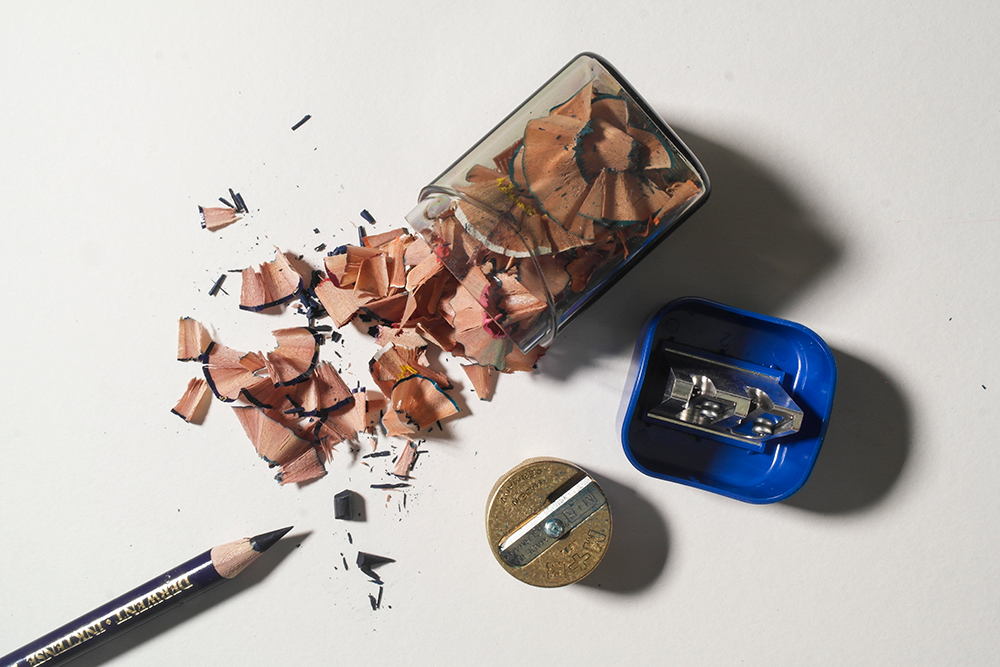 With manual sharpener it's pretty easy to locate and get rid of any shards of lead or wood trapped in the blade. If there are any indications that your sharpener is dulling, most artists just choose to dipose of the old sharpener and replace with a new one. Especially given that most are fairly inexpensive. With more expensive models (like most of our M&R brass sharpeners) there are often replacement blades available. Using replacement blades is a great way to cut down on waste and keep your sharpener in tip top condition.
For canister sharpeners the only other maintainance will be making sure that you empty the removable bin regularly.
Helical Pencil Sharpeners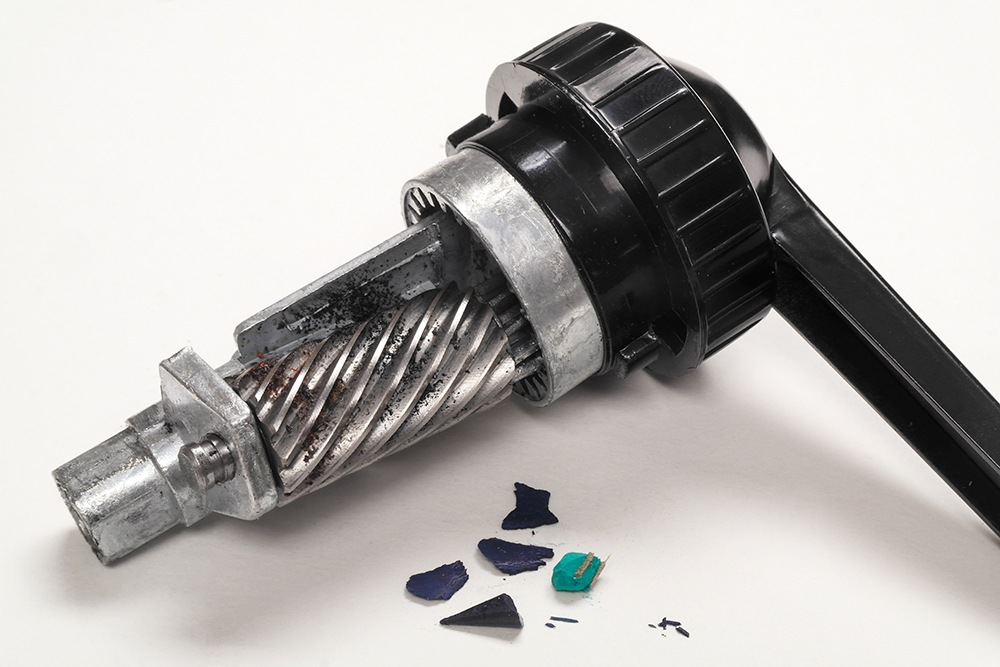 There's a more complex mechanism in a helical sharpener, so they can be a bit more difficult to maintain. If you find that a helical sharpener isn't working as it should it's quite possible that there is loose lead caught in the blade. You should be able to release the helical blade by unscrewing it via the crank. Remove the blade and dust it gently with a paint brush or other brush to get rid of any loose fragments. Some debris can be more difficult to shift. If you find a brush isn't getting rid of it, try tapping the sharpener firmly on a solid surface. This should jolt the debris free. If your blade is clean but no longer sharpening well it's probably time to replace the machine or buy a new blade where available.
Like with a canister sharpener, the bin will need emptying regularly.
We hope this article helps you find a great sharpener
Hopefully this article will help you pick the perfect sharpener for your pencils. If you have any questions about our sharpeners, or picking a sharpener just let us know in the comments and we'll be happy to help.
We've also condensed the information in this blog post into a chart, so you can quickly cross reference our sharpener specs all in one place. Just click on the image below or the underlined link to download our Artists' Sharpener Comparison Chart.