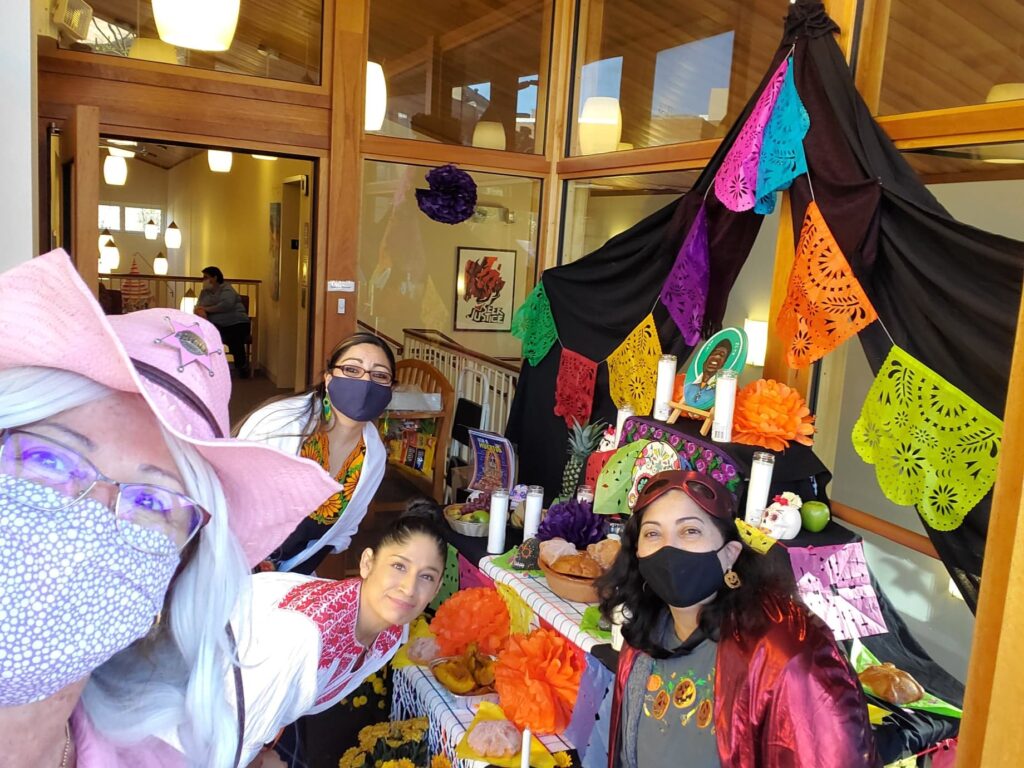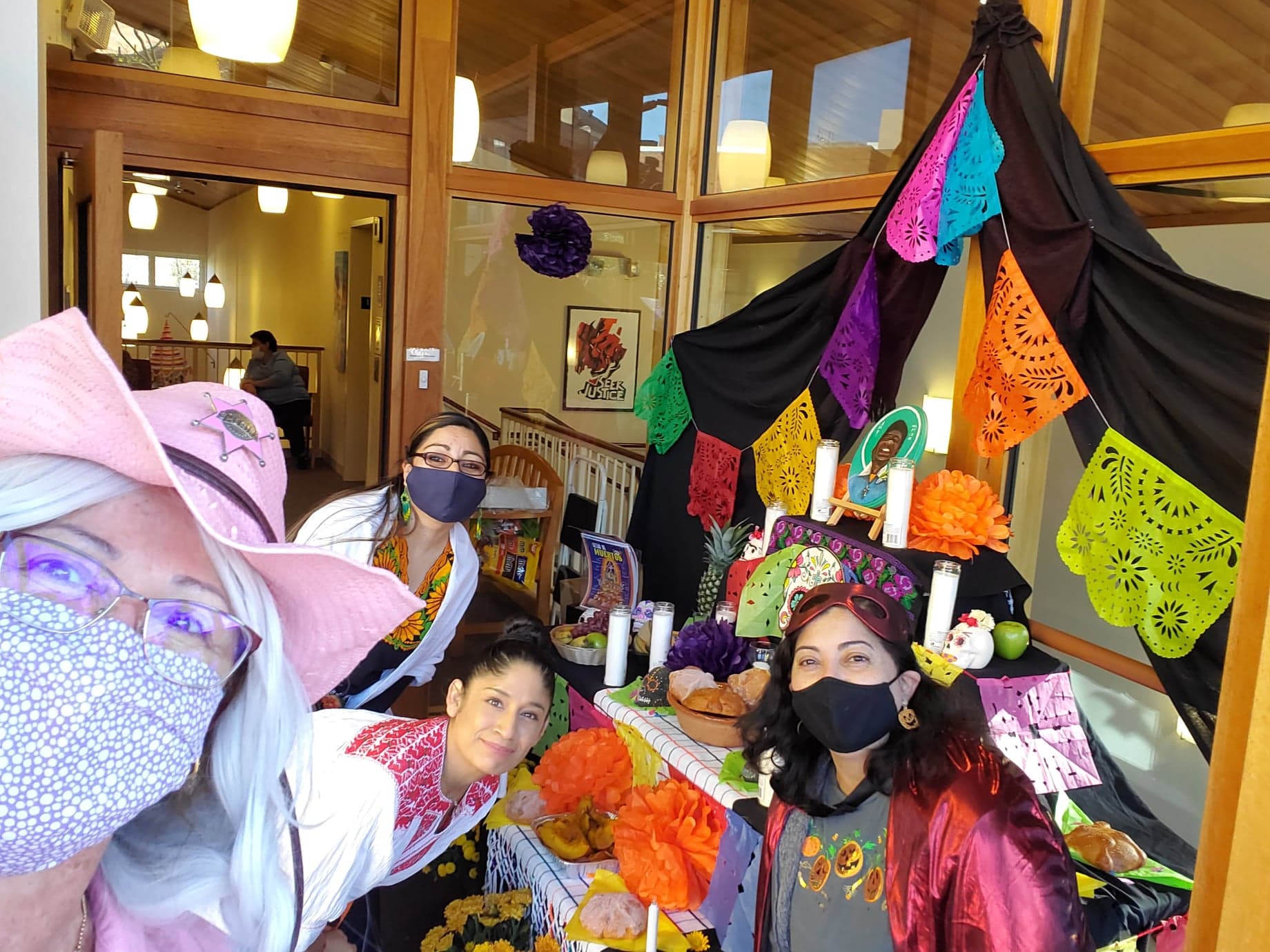 I have lived in Columbus for 30 years! Living in Central Ohio and working in Columbus has exposed me to the beautiful celebration of Día de los Muertos through the community I serve as part of Proyecto Mariposas and Martin de Porres Center. While remembering the souls of those have moved on has been important in my family in Puerto Rico. The tradition of Día de los Muertos was a beautiful way to celebrate their lives and their memories here in United States.
The ofrenda allows us to share the beautiful stories left behind helping us continue our lives supporting each other. In 2020, the COVID-19 pandemic was taking the lives of many in our immediate community and relatives in our countries without the possibility of mourning close to each other. Those who passed are alive in our memories. At the Martin de Porres, we wanted to provide a space for our close community to have an ofrenda a way to honor those are forever in our hearts.
Our two leaders: Citlali Perez and Jimena Torres (Mexico) took on the task to create our first ofrenda at the center. They coordinated the decoration, the literature to share with our community. That ofrenda was very significant for our community because it allowed us to come together in a safe space while keeping social distance. It allowed us to share support for the families that are part of our center throughout the year and have come to trust the space as a space of peace. We knew we had to keep this practice for our families. That year, like many, I was faced with mourning the life of a very close member of our family.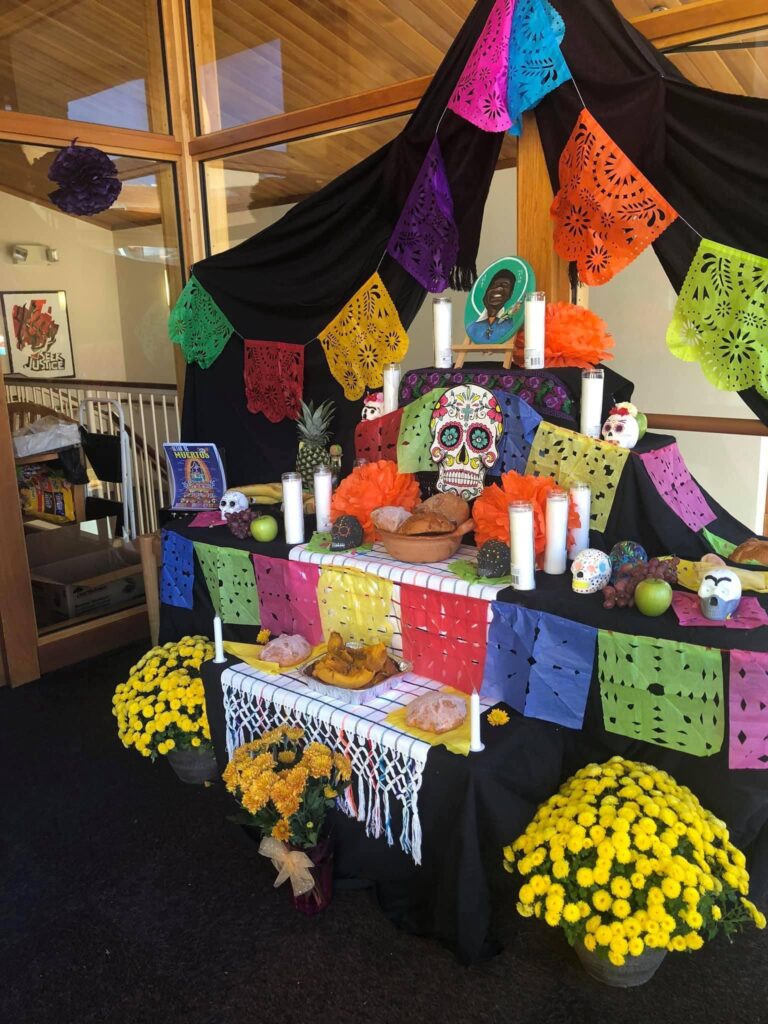 The beauty of this celebration is the colors, the stories, the community that is built. Sugar skulls, marigolds, papel picado, monarch butterflies, pictures, pan de Muertos and catrinas create the wonderful setting for families to honor, reflect and share the life of others.
This year (2022), we are creating our ofrenda for the community and providing individual spaces for anyone that would like to create their ofrenda. The Martin de Porres Center is dedicated to be a safe haven for community, spirituality, education and the arts. The Día de los Muertos provides all of this through a celebration of life and dead.
This day has become very important to me personally and as a community member. Death is part of the cycle of life and through this celebration, we can be connected to the creative and the reflective spiritual tradition.
In reflecting on the ofrendas, and those who are close to us, how have their stories stayed with us and influenced us now? How can we keep their memory alive by re-telling their stories?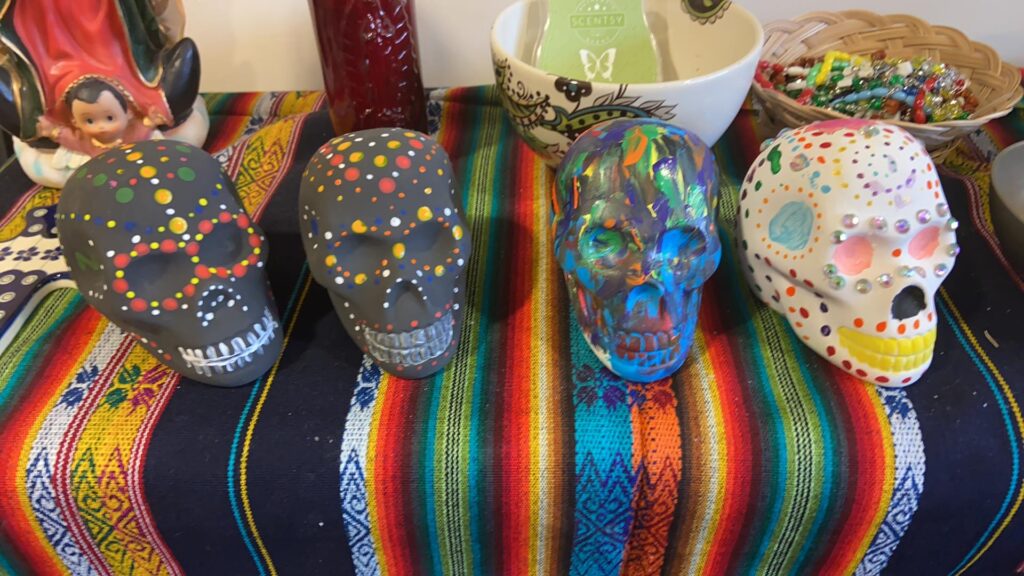 The ofrendas will be on view through November 2, 2022 at the Martin de Porres Center. Please check the website or call 614-416-1910 for hours.
Yahaira Rose is Director of the Martin de Porres Center. as well as the Founder and Executive Director of Proyecto Mariposas (Project Butterfly), whose mission is to empower, mentor and support Latina women and girls with the tools, knowledge and leadership skills necessary to lead brave, strong lives. Click here to learn more about Yahaira and her organization.