Halloween has come and gone and leaves are falling from the trees.  The holiday season approaches, and with it the biggest shopping and gift-giving time of year.
Are you ready to deck the halls and market artwork for the holiday season?  Small businesses typically bring in a hefty 20 percent of total yearly revenue during the final weeks of the year.  Holidays should be a great sales window for artists, but many forget to build the holiday marketing plan that will help you enjoy the festive windfall.
Read on to discover how to build a holiday marketing plan that will put your work at the top of art lovers' present lists.  Whether they celebrate Christmas, Hanukah, Kwanzaa or simply want a thoughtful end-of-year party gift, a savvy sales strategy will help you leverage the biggest art-selling time of year.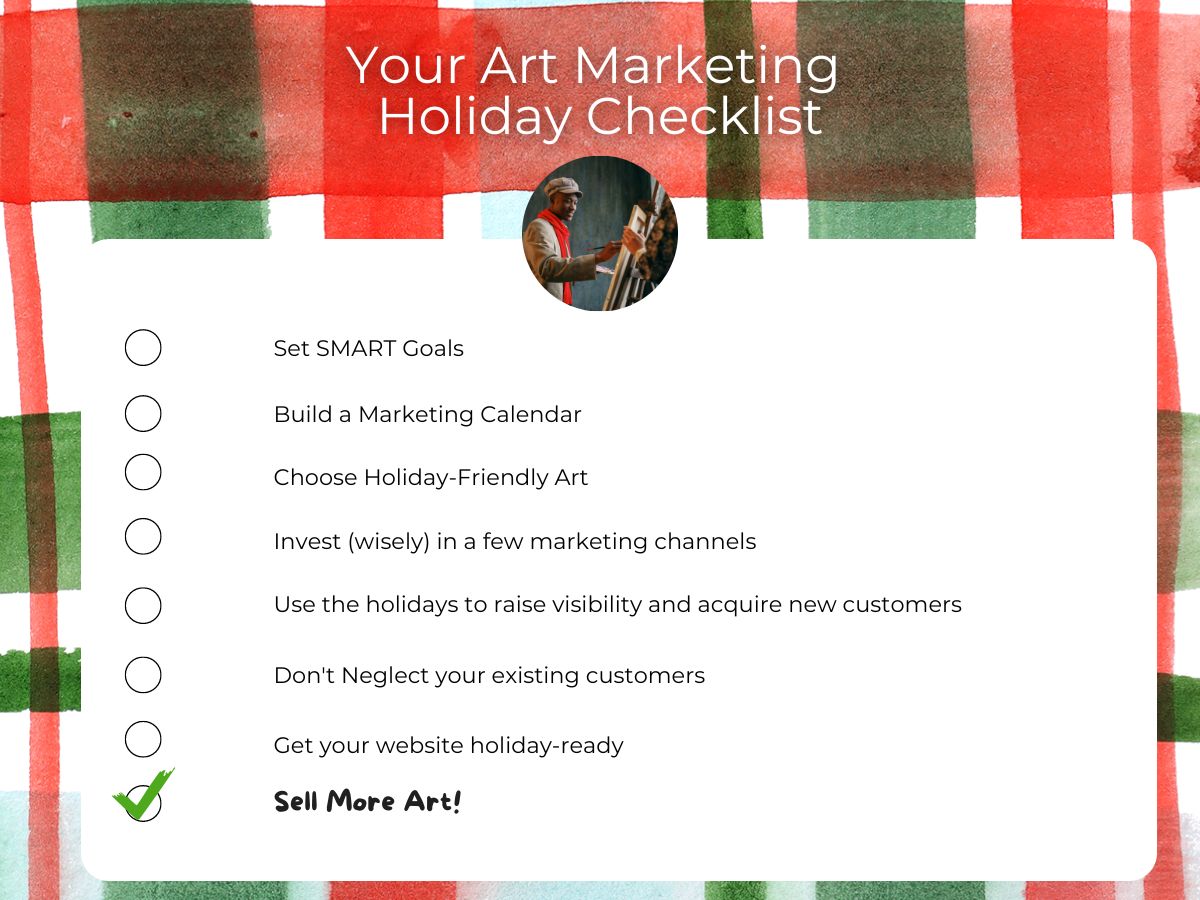 Art Marketing Needs SMART Goals, too
Remember the old adage that if you fail to plan, you plan to fail?  Strategic planning isn't just for MBAs.  Even right-brain artists can win big with a goal-oriented strategy for holiday sales success.
Before you head to the studio or start printing greeting cards, pause and ask yourself what you hope to accomplish this holiday season.  Create goals that are SMART:
Specific: "Sell more art this year," doesn't cut it.  Do you want to sell more landscape paintings?  Test the market for poster reproductions of your work?  Hold yourself accountable with clear objectives.
Measurable: What gets measured gets managed.  Set numerical goals, such as selling 40 sculptures or increasing your social media following by 500.
Attainable: If you sold $20,000 worth of art last holiday season, proclaiming a seven-figure goal simply sets you up for disappointment.  Instead, choose "reach" goals that don't require win-the-lottery levels of luck to achieve.
Realistic: Does your goal align with your career goals and life purpose.  If you find portraiture dull, why set a goal that requires you to paint 50 children's portraits this holiday season?
Time Bound: Decide when you plan to start your marketing campaign and when it will finish.  In the context of holiday art marketing, chances are you'll want to begin in mid-October (or earlier!) and reach your goals by the New Year.
Sound intimidating?  Don't worry.  It doesn't have to be.  Your SMART holiday marketing plan can fit on one side of a post-it note if needed.  The point is to get you planning early, not drown you in PowerPoints.
Build Your Holiday Marketing Calendar
As your developing your SMART goals, keep a few important dates in mind and work backwards.  At a minimum, you'll want to consider these key dates and build your marketing messages and offers around the well-trod rhythms of the season:
Black Friday
The day after Thanksgiving kicks off the holiday gift-buying season.  Advertisers swing into high gear and consumers shift into the Christmas, Hanukah, or Kwanzaa mindset.  This is a great time to kick off your holiday marketing plans (if you haven't started earlier!).
Small Business Saturday
Yes, artists ARE small businesses.  So celebrate yourself accordingly.  In a world of Amazons and Apples, many shoppers still value the personal touch and unique gifts that a small business can offer.  Many local chambers of commerce receive city funds to promote directories of local business or even host a holiday shopping fair.  Make sure you get in on the action.
Cyber Monday
The Monday after Thanksgiving has become a blitz of e-commerce discounts.  While it might be hard to compete with the tsunami of ads, you can offer a deal to your email list or test some very targeted online ads.
Green Monday
The second Monday in December has become the third-largest retail day of the year (behind Black Friday and Cyber Monday).  Green Monday (a term eBay coined in 2007) actually refers to cash, not nature (cynical, we know).  But that shouldn't stop you from putting an environmental spin it.  Why not celebrate the ecological benefits of original art (versus disposable reproductions)?
Free Shipping Day
As the third Monday in December approaches, why not tease free shipping on orders from your website on social media and through an email blast?  If your profits permit, you could even guarantee delivery before Christmas.
Super Saturday
The last Saturday before Christmas is a great excuse to stir up interest among last-minute shoppers who've been sitting on the sidelines.  Why not offer free or expedited shipping to all those gift-buying procrastinators?
When should you launch your holiday marketing campaign?
When it comes to holiday shopping, the world is divided into two camps: those who begin writing lists in August, and those who are horrified at the wafting scents of nutmeg before November.  While you don't want to alienate the dawdlers by  marketing too early, you do need to put your business needs first.  Think carefully about how much time you will need to undertake gift commissions, take note of shipping deadlines and last-minute shipping rates, and plan your campaign accordingly.  If your work has a long lead time, simply explain that in your ads, on your website and in email campaigns.   Encourage clients to commit to avoid difficulties later.  A humorous apology about mentioning Christmas in July will ease any qualms.  After all, no one wants to their loved ones to be disappointed when a present doesn't arrive in time.
There is, of course, a third group of holiday shoppers: those who leave presents until the very last moment.  Shipping deadlines have come and gone, it's December 24 or the night before Hanukkah, and these gift-buyers are desperate.  Catering to the biggest procrastinators is actually easy:  offer a commission service with a gift certificate that can be sent via email at any time, with a message explaining that the purchaser is gifting the recipient a commissioned artwork.  Take the time to make the email feel personalized and festive, just as a physical gift would be.
Offering a last-minute commission service on your website could attract new customers and spread your workload into the New Year.
What Art Should You Market Over the Holidays?
You don't have to slip into cliches of jolly Santas and snowflakes to sell more artwork over the holiday seasons.  If you're looking for aesthetic inspiration, check out our guide to making festive but original holiday art.  Your art can stay uniquely yours while still appealing to art lovers in gift-buying mode.
Offer gift commissions for the holidays
If you are willing to undertake commissioned works, the holidays are an excellent time to advertise this service.  A bespoke portrait of a beloved pet or family member is the perfect gift for the person who has everything.  But commissioned works needn't be limited to portraiture.  As a landscape artist you might wish to turn your skills to depicting the recipient's favorite view, garden, or even their home.  Further, still lifes can be personalized to feature meaningful or treasured objects.
Why not include a dedicated page on your website advertising commissioned works, with an explanation of your working process? If you have undertaken commissions in the past, ask clients if you can illustrate these on your website, social media channels, and newsletters, to inspire others to consider commissioning a work.
Focus on marketing lower-priced artworks
It's interesting to note that when London's West End galleries hold dedicated Christmas shows, the artworks they include are often clustered at the lowest price points that they offer.  Spotlighting your most affordable pieces in your marketing widens the potential market for your works.  If you do not do so already, why not offer reproduction prints, which could be very appealing to art lovers who admire your work but don't have the budget to purchase an original?  Prints also have the advantage of being easier to package and ship.  If you're not sure how to balance profit and affordability, check out our guide for how to price your art.
License your work as holiday greeting cards
If the style and subject matter of your work is appropriate, you might want to license a reproduction for Christmas and other greetings cards.  Licensing fees can provide a steady stream of passive income, even if your profits per card are likely to be pennies.  The bigger advantage of licensing is reaching a wider audience and letting the greeting card company do your marketing for you.
Who knows? A beloved greeting card could lead to next year's big commission.
If you opt to go the licensing route, you'll need to plan months (even a year) in a dance.  You could collaborate with a licensing agency such as Bridgeman, directly pitch greetings card companies, or partner with your local boutique.  Alternatively, you could offer cards for sale on your website.
How can you encourage clients to add your artwork to their Christmas list?
When building any marketing plan, it's easy for artists to focus on new customers and forget about existing customers.  But the smartest art marketers know that customer retention is a superpower: it's cheaper and easier to sell art to someone who knows and loves your work.  So, if you do ONE thing this holiday season, make sure you market to those who have bought your art in the past.
Email Marketing: If you are sending regular updates to contacts via an e-newsletter, the run-up to Christmas is an excellent time to include a reminder that you are available for commissions, or to highlight available works that might be suitable as gifts.
Greeting Cards: If you have also built a database of clients' addresses, sending them a Christmas card featuring your work is a great opportunity to reconnect.  A physical card displayed in the home can also remind a collector's loved ones that they cherish your work, and could inspire next year's Christmas list!  You could send a similar card to galleries, local home furnishing boutiques, interior designers, or anyone else who might be a referral partner.  If you have high-resolution images of your work, you can have cards digitally printed relatively economically, either online or via a local printing company.  Don't forget to include your name and website on the reverse, and if appropriate "Commissions undertaken."
A Personal Email, Note or Phone Call: In a world of mass emails and generic ads, the personal touch really stands out.  If you sell high-ticket art, it may be worth getting in touch with repeat customers or promising leads.  You can even draft a  template and modify it for each client to save time.
How can you find new clients during the holiday season?
Alongside your existing clients, the festive season is a fantastic time to widen your customer base.  This is where your SMART holiday marketing goals will be particularly important.  Finding new customers often comes with a cost: time, money or creative energy (and usually all three!).   Check out the options below and assess which are most likely to help you meet your goals while ensuring you can stay profitable:
Holiday Markets: Exhibiting at a local open-air market can put you in front of thousands of potential customers.  And even if people don't buy that day, you can collect email addresses, give out business cards, and provide them with a QR code for your website.  Just bear in mind that the fees for a stall can run from a few hundred to several thousand dollars, depending on expected foot traffic.  Before you book a stall, make sure you understand the customer demographics: what is their price point? what work will appeal to them?
Advertise in a local newspaper, magazine or through a community group: A national ad campaign may be prohibitively expensive for most artists, but that doesn't mean you can't get creative.  Sometimes schools or local groups will even provide you with a free ad or an email blast to their subscribers in exchange for a group holiday art lesson.  Get creative and resourceful and don't assume you have to spend big to get big results.
Invest some time in local SEO: 

At a time when many consumers 

want to shop local

, you should emphasize your location on your website and social media channels.  

An ArtWeb website manages your SEO for you, so you can be sure

 you appear in search engines' suggestions for local artists.
Social media:  Instagram and Facebook offer targeted advertising campaigns based on geographical area, and users' age and interests, as well as allowing you to set an advertising budget per day.  Although major commercial galleries generate significant sales on social media, this may be most suited to more affordable artworks, such as prints.  You may find that your own organic (aka free) social reach is more limited than it used to be, as social networks prioritize paid ads over regular posts.  But did you know that ArtWeb users can post for free to our 170,000 Instagram followers?